A recent study of District restoration projects showed restoring coastal wetlands has a positive impact on populations of juvenile sportfish.
The Tampa Bay Environmental Restoration Fund paid for a study that focused on how restoring coastal wetlands improved habitat for juvenile sportfish and compared the use of natural, impacted and restored sites along Tampa Bay shorelines. Sites defined as impacted had modifications such as dredged canal or ditch but no further changes. But restored sites had landscape changes that helped support aquatic communities.
The study found that the restored and natural sites displayed a greater number of sportfish than the impacted sites, suggesting changes to habitat can affect the number of juvenile sportfish.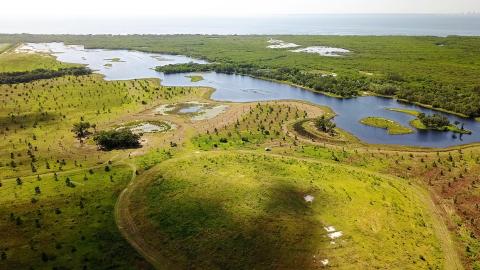 "It's exciting and validating to have this information; it shows that our coastal restoration techniques are providing valuable sportfish habitat," said Jaime Swindasz, staff environmental scientist.
Assessing the growth of juvenile sportfish can provide helpful insight into habitat suitability and the cost-benefit of future restoration projects.
The study evaluated the Rock Ponds Ecosystem Restoration, Terra Ceia Restoration and Cockroach Bay Restoration.
"Overall density of sportfish at the restoration sites were comparable to or higher than natural sites that have been shown to serve as sportfish nurseries in Tampa Bay," the study said.
For example, the Rock Ponds Restoration site contained high densities of snook, fast growth rates and overall good conditions. This suggests that coastal wetland restoration using a habitat mosaic approach helps to improve nursery function for juvenile sportfish, which adds ecological and economic benefits to these projects.