Students at All Saints Academy in Polk County got to experience the water cycle first-hand on a recent rainy-day field trip to Circle B Bar Reserve in Lakeland.
The rain didn't prevent the fourth- and fifth-grade students from enjoying their field trip. And instead, they used the opportunity to set up their rain gauges. The field trip is funded by the District.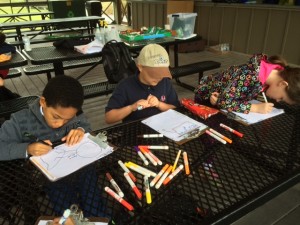 Students also hiked through the property stopping to test water quality and use dip nets to examine aquatic specimens. During their hike, they saw eight alligators, a snake and many species of birds.
Students also drew the Peace River Watershed on paper and used colored markers to represent types of pollution. As they sat their papers out in the rain, they watched the "pollution" spread across their watersheds and into their water bodies.
The public can experience similar programs and exhibits by visiting Polk's Nature Discovery Center at Circle B Bar Reserve. For more information, visit http://www.polknature.com/discovery/exhibits/