Just two days into their weeklong summer camp and the students of Camp Citrus were looking at water in a whole new way. Their snorkel at Three Sisters Springs wasn't just a leisurely swim in the pristine waterway. The middle school students examined vegetation, discussed flows and looked for habitats.
And that's the point of Camp Citrus, according to Earnie Olsen lead teacher at the summer camp hosted by the Marine Science Station in Citrus County.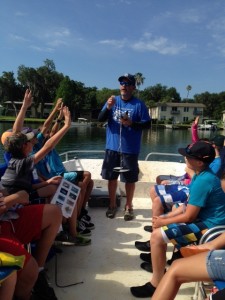 "We not only teach them information about freshwater and estuarine environments, we let them experience them," he said.
Three one-week camps are held in the month of June for middle and high school students. About 30 students attend each week. Students receive intensive, hands-on learning experiences with a focus on spring systems. 
Students study the ecology of a spring, the threats facing local and regional springs, how local agencies are protecting and restoring springs, and how residents can protect springs. The District provided funding to the camp as part of the ongoing effort to increase education and community awareness of the major springs in our region.
The five-day camp includes two full days on Crystal River/Kings Bay and one full day at Weeki Wachee Springs. Students perform activities like water quality testing and studying water conservation practices. At the end of the week, the students make final presentations about what they learned to their parents.
"If they share the information with their parents, they are more likely to remember what they have learned and pass that information on to others," Olsen said.