Innovative ways to test and track water were the themes of this year's student winners of the District's Water Matters! Awards.
The District recently awarded three students with the Water Matters! Award for their work at the Pasco County Science and Engineering Showcase. This is the second year the District has given the award, which was developed in partnership with Pasco County School District. The award recognizes notable projects relating to the mission of protecting the area's freshwater resources and improving water quality.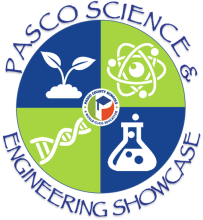 Kate Newsome, District environmental scientist, was a judge at the event hosted by the Pasco County school district.
 "As someone who interacts with scientific concepts daily, I feel that it is vital to interact with students in our local District to demonstrate that environmental scientists do exist within the world around them," Newsome said.
The three awards given were:
Elementary Award -- presented to

Srinithya Bandi, who designed an in-home water meter to help households reduce water waste and track efficiency.

Middle School Award – presented to Avantika Krishna for her experiment titled "Water is Life. Treat it Right!" Her project exemplified the scientific process by testing a variety of filtration materials to find which is the most efficient and effective at purifying drinking water.

High School Award – presented to Sydney Norris' experiment, "Designing a Temperature Reduction System to Regulate the Effects of Urban Stream Syndrome." Through testing, she helped design a system that would absorb the heat from stormwater runoff before it enters a stream. Stormwater runoff is a leading cause of Urban Stream Syndrome, which is the ecological degradation of streams due to urbanization.
District staff also participated as judges in two additional science fairs this school year. This included Hernando County's annual Science Fair hosted at Challenger K-8 School of Science and Mathematics, and the Big Springs Regional STEM Fair for students in grades 6-12 in Marion and Sumter counties.
Dr. Madison Trowbridge, the District's Springs scientist, volunteered as a judge for the second year in a row at the Big Springs STEM Fair and found the creativity and enthusiasm from students continues to grow.
"My decision to become a scientist started when my third-grade teacher read to us a story about a marine biologist.  These events cultivate a curiosity and a thirst for learning, which I am humbled to be a part of," said Trowbridge.
To learn more about District involvement in youth education, please email the Youth Education Program manager at WaterEducation@WaterMatters.org.