They tackled topics that ranged from soils and forestry to aquatics and wildlife.
Hundreds of students from several counties recently participated in the 2015 Nature Coast Regional Envirothon at Crews Lake Wilderness Park in Pasco County.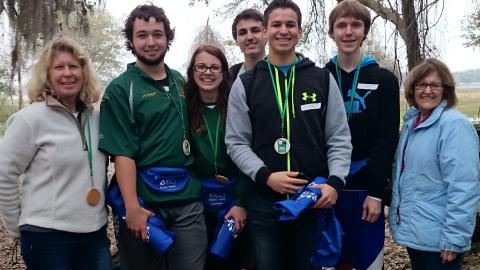 The competition is a problem-solving, natural resources education program for high school students allowing them to use critical-thinking skills to solve problems or conduct hands-on investigations about current environmental issues. 
This is the 18th year the District's Brooksville Regulation and Water Supply staff helped conduct the competition by developing questions for the special topic. This year's special topic was sustainable urban forestry. The questions focused on the benefits of trees in urban areas, from improving the overall community feeling of well-being to helping clean stormwater. Kim Dymond, Frank Gargano, Josh Madden and Carolyn Pina represented the District.
Sixty-seven teams of students answered the science questions.
The Flatworms from Academy of Environmental Sciences in Citrus County won the prize for overall knowledge of urban forestry. The Envirothon's overall winners were the Geek Squad from Lecanto High School in Citrus County. Overall winners receive a $500 scholarship.