This past rainy season proved to be one of the busiest in recent history for the District's Structure Operations staff. 
"It was definitely one of the most difficult seasons in the last 10 years," said Mike Bartlett, chief structure controls analyst. "And that's including the 2004 hurricane season."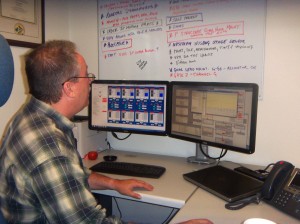 What made it so difficult was the steady rain this season from frequent thunderstorms caused by the sea breeze. These type of storms often produce a lot of rain in a short amount of time and are hard to predict where they'll hit each day.
The length of the rainy season also proved to be challenging. Staff often refer to the month of September as "the razor's edge" because they are trying to predict the end of the season and prepare water systems for a drier weather pattern in the fall and winter.
But between Sept. 27 and Oct. 1, parts of the District saw more than 10 inches of rain. Structure Operations staff made 73 operations after hours in one week and more than 100 more during work hours. Gate operations were made on every system in the District.
Plus, many of the gate operations had to be made manually because of extensive lightning damage from the large amount of storms.
But thanks to the hard work of staff, residents remained safe and homes remained dry. But the long hours may not be over for staff.
"They are predicting another El Niño year, which could mean another wet winter," Bartlett said.