District staff and their family members recently took a volunteer trip to the Florida Keys National Marine Sanctuary to help transplant coral. 
Patricia Williams, senior revenue compliance coordinator, and son Tyler; and Keith Kolasa, senior environmental scientist, and son Cole, participated in the transplanting.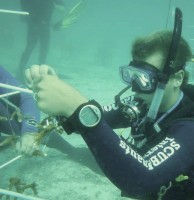 The teens are part of the SCUBAnauts International program, a marine education program for teens. 
The teens worked with Mote Marine Laboratory to transplant a record number (600 total) of staghorn coral on a section of a patch reef, during a course of eight dives within the week. Mote has been involved in growing and transplanting threatened staghorn coral in the sanctuary for about eight years.
Williams provided logistical support to the dive group comprised of eleven nauts and four dive instructors. Kolasa also assisted during a second event in the Keys for the Combat Wounded Veterans Challenge. He was a boat captain and diving assistant for the dozen wounded veterans who also transplanted coral.