As the school year comes to a close, so does another successful season of the District's Splash! school grant program. This year the District awarded 65 Splash! grants to K-12 educators to help enhance and support water education activities. In total the grants engaged more than 20,000 students and adults.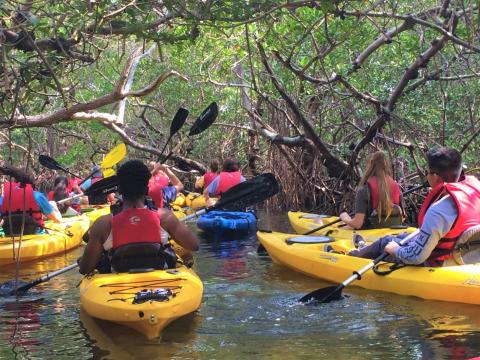 For many educators, the Splash! grant program enables them to give students hands-on experiences that otherwise would not occur. This may include a field study at a local waterway, building and maintaining a water-conserving garden, conducting a water conservation outreach campaign and more.
In providing feedback on this year's grant, one teacher at South Sumter Middle School stressed the importance of receiving grant funds.
"The Splash! grant is an integral part of my curricular goals each year since other funding is unavailable. It is only through programs like Splash! that I can dedicate the time and effort to educate our students on ways to protect and conserve water resources in our state."
The District is grateful to be able to provide support to educators through the Splash! grant program, helping to inform and inspire our future decision makers and leaders. To learn more about the Splash! grant program click here.