Blog note: Projects and Partners is a new WaterMatters Blog series that highlights various innovative projects of the District and its partners to benefit the community.
District leaders recently celebrated with other community partners the new reclaimed water project at Tampa Electric Company's Polk Power Station. When in operation later this year, the City of Lakeland plants will pump waste water to a treatment plant about 15 miles away. Treated wastewater will be pumped to the power station for use in electric generation.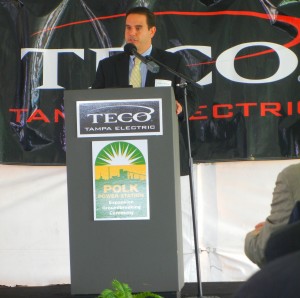 It will supply the plant with seven to 10 million gallons per day in reclaimed water. And the system could be expanded to 17 million gallons per day.
The District's Executive Director Robert Beltran said at a recent ceremony that this project helps the area achieve groundwater offsets within the Southern Water Use Caution Area (SWUCA). SWUCA is a designated area where regional action is necessary to address cumulative water withdrawals which are causing or may cause adverse impacts to the water and related natural resources or the public interest.
"The project also reduces nutrient loads from entering the Alafia River and Tampa Bay," Beltran said.
The District contributed $41 million on this project. Once complete, the project will increase county-wide reuse in Polk to more than 60 percent.