Blog note: Projects and Partners is a WaterMatters Blog series that highlights various innovative projects of the District and its partners to benefit the community and water resources.
They came from countries across the globe with one common mission…water.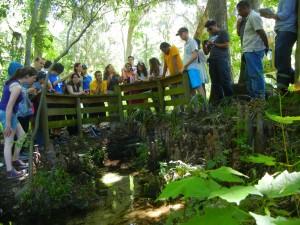 The District recently hosted students from nearly two dozen countries to discuss water policy. The session, held at Crystal Springs Preserve, was part of the United Nations Educational, Scientific and Cultural Organization (UNESCO) Institute for Water Education.
Students in the program study international water tactics and take back that information to their home countries to tackle water issues. The program is designed for developing countries. The entire "Hydroinfomatics" division travels to the United States for two weeks to study water models.
"Your commitment to solving water issues around the world is admirable," said Randy Maggard, Governing Board vice chair, who welcomed the students. "I'm very proud of the work the District does each day to protect the region's water resources. We have an amazing staff of engineers, biologists, hydrologists and environmental scientists across our 16-country region."
Students were in awe of the crystal clear springs at the Zephyrhills preserve. Besides touring the water body, students learned about watershed management from JP Marchand, the District's Engineering and Watershed Management manager. Michael Hancock, a senior professional engineer, also explained groundwater analysis to the students.
The students will complete the UNESCO program with the equivalent of a master's or doctorate degree.