District staff helped community leaders celebrate the completion of the Lutz Lake Fern Road Trailhead and new section of the Upper Tampa Bay Trail, which now connects to the Suncoast Trail.
Hillsborough County recently hosted a ribbon-cutting ceremony for the new segment. The 4.35-mile section marks the completion of the northernmost segment of the Upper Tampa Bay Trail.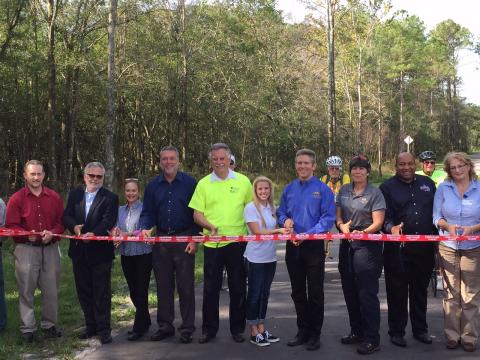 Colleen Kruk, the District's lead land use specialist, spoke at the event, noting this project is a great partnership between agencies. 
The new section is the first paved, multi-use trail constructed in a Hillsborough County preserve.
"That opens up the possibilities for a more genuine glimpse of nature," said Hillsborough County Commissioner Kevin Beckner.
From the trailhead, the trail extends 1.5 miles east and then north. This portion includes three sections of boardwalk that cross over wetlands, and a signalized crossing at Lutz Lake Fern Road. 
The new Lutz Lake Fern Road Trailhead features paved parking for 50 vehicles, restrooms, a covered picnic area and an automated pay station.
Design and construction of the $6.2 million project was funded by Hillsborough County, the Florida Department of Transportation, and the Southwest Florida Water Management District. Hillsborough County Conservation and Environmental Lands Management will maintain the new facilities.