There are thousands of acres of recreational lands throughout the District and most of them are free to visitors. Now the District has two new resources to give more information about these opportunities. 
The District has published a new recreational guide highlighting nearly 70 properties in a new sleeker design. Users can scan the QR code found on each brochure page to discover specific up-to-date details about each property.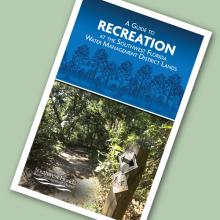 In the new recreation guide, users can take notes, learn about various volunteering opportunities and discover more about the District's different conservation lands.
Outdoor lovers also can check out the new Water Matters Podcast found on the District's recreation webpage or major podcast platforms. The podcast features Felicia Nudo, land manager, who discusses what it's like to experience the recreational side of the great outdoors on District lands.
There are different varieties of recreational opportunities that the district offers. Thousands of acres are available to experience that "true nature" feel in west-central Florida. 
"The recreational opportunities that we provide at the District are passive and nature based, and what that means is that they are primitive and so we don't have the amenities on site such as restrooms or drinking water.  We do have portable restrooms, and a lot of our trails are on old forest roads," Nudo said.
In the podcast, Nudo discusses the 30 unique campgrounds across the District including back country, primitive and equestrian-styled sites. She said making a reservation is simple, campers make a reservation through the recreation website.
The website also features georeferenced maps, which visitors can download to be used with map apps that require no cell service.
Nudo said the District maintains these lands to protect watersheds and relies on visitors to do their part. 
"The biggest rule that we ask campers to follow is the pack in, pack out method," said Nudo. That means whatever guests take into a site, they should take out with them, including all trash." 
To download or order the brochure, listen to the podcast or learn more about the District's recreational opportunities, visit WaterMatters.org/Recreation