History buffs can now get an up-close look at the artifacts recovered during the Chassahowitzka Springs Restoration Project.
More than 700 artifacts were recovered during the District's project, which removed sediments with a pump that had accumulated in the springs. Now, some of those artifacts are on display in a new exhibit at the Old Courthouse Heritage Museum in Inverness.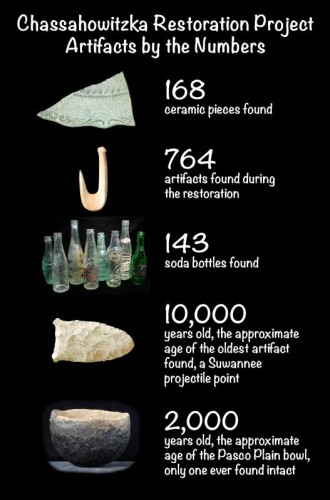 The "Changing People, Changing Springs: Chassahowitzka Discovered" exhibit features some of the key artifacts found including an intact Pasco Plain bowl, Spanish majolica ceramics and a 10,000-year-old Suwannee projectile point, the oldest artifact found on the project.
"This was the most important archeological dig in 2013 in the state," said Michael Arbuthnot, project manager for Southeastern Archaeological Research, Inc. (SEARCH). "It's the most interesting and most diverse collection I've ever seen."
The finds were so significant that the Florida Archaeology Council recently gave the District the Stewards of Heritage Preservation Award.
The sediments in the Chassahowitzka have had a negative effect on water clarity and quality and reduced the ability for aquatic plants to flourish in the springs. When the sediments were removed, four SEARCH team members monitored items found. 
For example, when divers came across one item, they originally thought it might be a coconut. But SEARCH members were able to determine it was a Pasco Plain bowl, believed to be the only one ever found intact. 
The exhibit includes artifacts, maps, photos, interpretive panels and interactive areas, including a net-making table for children and a quiz for all ages. For more information on the District's effort to restore area springs, visit WaterMatters.org/Springs.