Seventh-graders at Terrace Community Middle School weren't afraid to get their hands dirty when they recently clipped, plucked and tugged out invasive plants near school grounds.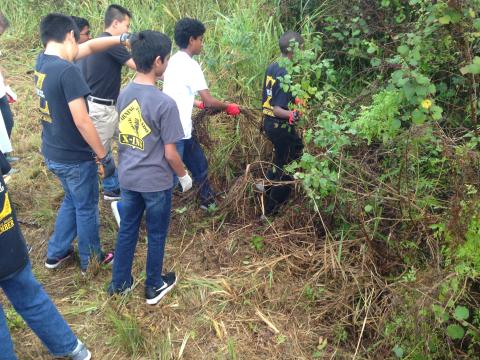 The students' outdoor exercise is the first part of a project to bring an outdoor classroom to the charter middle school in Tampa. The purpose of the outdoor space is to gather and analyze data in the ecosystem.
The classroom will be on District property, which the school uses and is a modified wetland in a natural oak hammock. The school was granted $500 by the Temple Terrace Garden Club to remove invasive plants and restore the area with native plants. The Suncoast Native Plant Society also committed volunteers to teach students about invasive plants.
Armed with clipboards of plant descriptions, students identified and removed several invasive species including Caesar Weed and Skunk Vine. 
"This gives the students a great opportunity to get out of the classroom and have a hands-on experience," said Meichelle Long, project leader. 
To follow the progress of the project, visit the school's blog .