The City of Wildwood in Sumter Counter is known as "the crossroads of Florida" for its central location near several major roadways in the state. Now, it can also add the distinction of tastiest tap water in West Central Florida.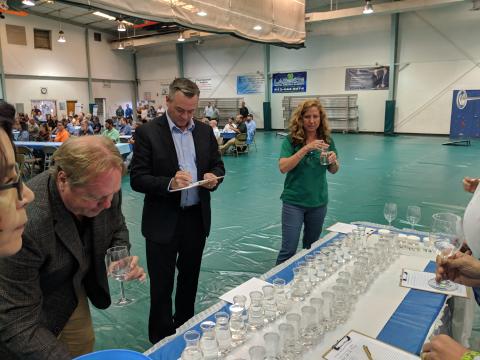 The city's water department won the annual Best Tasting Drinking Water Contest for Florida Section Region 4 of the American Water Works Association. Mandi Rice, the District's assistant executive director was one of the judges for Region 4 which includes: Citrus, Hernando, Hillsborough, Pasco, Pinellas, Polk and Sumter counties. Twenty-one public water supply contestants competed this year at Land O' Lakes recreation complex.
Each entrant provided water samples that were inspected by a panel of judges. The water was rated by its taste, odor, color and clarity.
"Events like these reinforce how vital water is to our daily lives and remind us how each and every day these utilities deliver safe and high-quality water to their customers," said Nick Makris, Region 4 contest chair and projects supervisor for the City of Tarpon Springs.
The City of Wildwood will now compete at the state competition during the Florida Water Resource Conference in April in Tampa.