District leaders recently helped celebrate the ribbon cutting of the Crystal River to Duke Energy Reclaimed Water Project. It will provide highly treated wastewater, known as reclaimed water, from the City of Crystal River to the Duke Energy power plant facility in Citrus County.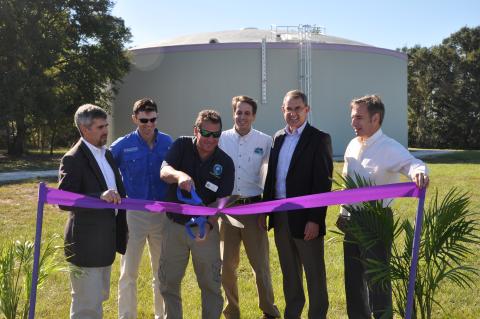 Infrastructure was built to transport all reclaimed water from the City of Crystal River's wastewater sprayfield to the Duke Energy power generation complex, located west of US 19.
This project benefits the Crystal River/Kings Bay springshed and water bodies by replacing 750,000 gallons per day of valuable groundwater with reclaimed water for industrial uses at the power plant. It also will reduce the amount of nutrients, such as nitrogen and phosphorus, entering the springshed by eliminating wastewater discharges applied to the city's sprayfield.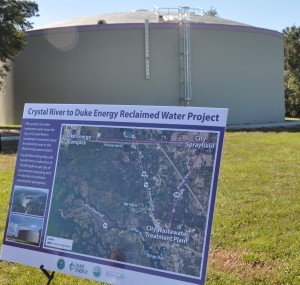 Governing Board Chair Michael Babb said the project is a perfect example of how the District is meeting its core mission areas of water supply and quality.
"This project will help to ensure a long-term water supply and improve one of our coastal spring systems, the District's top two priorities in the northern region," Babb said.
The District cooperatively funded the project with the City of Crystal River and the Florida Department of Environmental Protection. Duke Energy is providing additional funds for construction within the power plant complex.
To learn more about the District's effort to restore area springs, visit WaterMatters.org/Springs.