The Tampa Bay Estuary Program recently announced the winners of the 2014 Tampa Bay Environmental Restoration Fund. Nearly $625,000 was awarded to nine agencies or organizations for important restoration, research and education projects in Tampa Bay watersheds.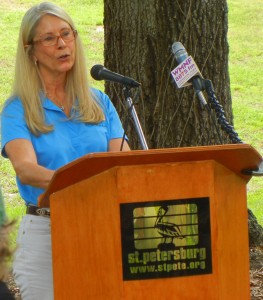 The 2014 fund is financed with contributions from the District; The Mosaic Company Foundation through the National Fish and Wildlife Foundation; Manatee County; Pinellas County; TECO Energy; the Florida Department of Transportation; and Port Tampa Bay. Governing Board member Wendy Griffin was at the recent recognition ceremony and congratulated the nine recipients. They are:
Colonial Waterbird Management in the Tampa Bay Watershed ($36,000), Audubon's Florida Coastal Islands Sanctuary staff will manage and track population trends and threats in nationally significant waterbird nesting colonies supporting 50,000 pairs of 31 bird species annually.
Safety Harbor Waterfront Park Habitat Restoration ($70,000), the City of Safety Harbor will remove invasive plants from a planned passive-use public park and replant with native species to restore 6 acres of marsh/mangrove wetlands.
Mapping of Hard-Bottom Habitat in Tampa Bay ($150,000), the District will inventory and assess the quality of hard-bottom reefs, oyster beds, and tidal flats in Tampa Bay to determine historic extent and develop restoration/protection targets for these important habitats.
Coastal Blue Carbon Assessment ($100,000), Restore America's Estuaries will assess the climate mitigation benefits associated with restoring salt marshes, mangroves and seagrass beds in the Tampa Bay ecosystem.
Rock Ponds Coastal Ecosystem Restoration ($60,000), Tampa Bay Watch will plant marsh grasses using community volunteers to enhance or restore 20 acres of tidal wetland habitat over a two-year period as part of the comprehensive restoration project.
Oyster Bar Restoration at Robinson Preserve ($53,000), Manatee County will install 7,500-square-feet of oyster beds as part of the comprehensive restoration of a 651-acre county preserve.
Duette Preserve Hydrologic Restoration ($87,260), Manatee County will restore forested and non-forested freshwater wetlands by removing man-made ditches to recreate natural hydrologic flows in the eastern Manatee River watershed.
Bay Soundings Environmental Journal ($25,000), The Tampa Bay Regional Planning Council will produce, print and distribute one year (four issues) of this popular environmental journal informing citizens about bay management trends, issues and accomplishments.
MacDill Air Force Base Living Shoreline ($41,000), Tampa Bay Watch will place 137 tons of oyster reefs and plant 1,000 linear feet of salt marsh grass utilizing community volunteers as part of a comprehensive restoration along the southeastern shoreline of MacDill AFB.