Ed Armstrong recently was appointed to the District's Governing Board by Gov. Rick Scott.
Armstrong, of Dunedin, is an attorney with Hill Ward Henderson in Clearwater. He was appointed to succeed Todd Pressman and his term ends March 1, 2018. The Governing Board position represents Pinellas County.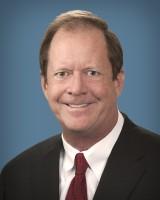 A lifelong Florida resident, Armstrong graduated from Dunedin High School. He went on to earn a bachelor's degree in accounting, Cum Laude, from the University of Maryland and a Juris doctorate degree from Vanderbilt University, School of Law in Nashville, Tennessee. 
Armstrong is a member of the American Bar Association, The Florida Bar Association, Clearwater Bar and Hillsborough County Bar associations. He has extensive experience representing private sector development clients. 
Armstrong currently serves on the Board of Trustees for BayCare Health System and Tampa Preparatory School. Armstrong previously served two terms on the Pinellas County Charter Review Commission and is a former board chairman of the Greater Clearwater Chamber of Commerce. 
Armstrong believes that his experience on other boards and significant community involvement will enhance his ability to serve the residents of the District as a member of the Governing Board.