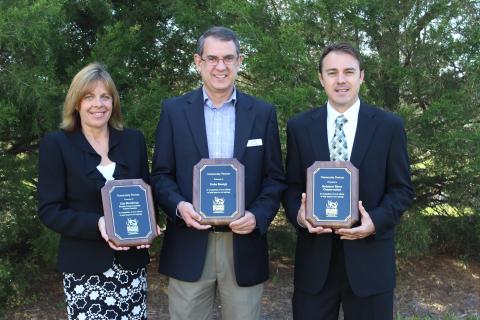 The Governing Board declared April Springs Protection Awareness Month at today's Governing Board meeting.
The move is part of the District's ongoing effort to restore and protect area springs and encourage community involvement. The Governing Board also recognized some of its springs community partners. They are:
Alys Brockway – She organized the Hernando County Groundwater Guardian Committee since 2002. The group helps educate the public about the importance of protecting groundwater and its connection to springs.
Duke Energy – The company has partnered with the District on recent springs projects, most notably the reclaimed water pipeline from the City of Crystal River to Duke Energy and the re-vegetation of Kings Bay.
Rainbow River Conservation – The group works to preserve and protect Rainbow Springs and the river through education, conservation, stewardship and advocacy.
The Florida Legislature also declared April Springs Protection Awareness Month.
"Springs protection is a vital component of our water policy," said Sen. Charlie Dean, who filed the resolution in the Florida Senate. "I have spent my entire life around springs, and I am excited to file this resolution again this year in the Senate to honor our springs and those who work to protect them."
Governing Board Vice Chair Randy Maggard said the District recognizes the need to manage all springs within its boundaries and places a high priority on the five first-magnitude spring groups in the District.
"We appreciate the Legislature's support in recognizing the importance of springs protection and restoration," Maggard said.
To learn more about the District's efforts to restore springs, visit WaterMatters.org/Springs.