The District's Governing Board recently approved SWIM plans for the Homosassa and Chassahowitzka rivers, meaning all five first-magnitude springs in the District now have established plans for improvement of those water bodies.
The Surface Water Improvement and Management (SWIM) Act requires the District to maintain a priority list of water bodies of regional and statewide significance and develop plans and programs for their improvement.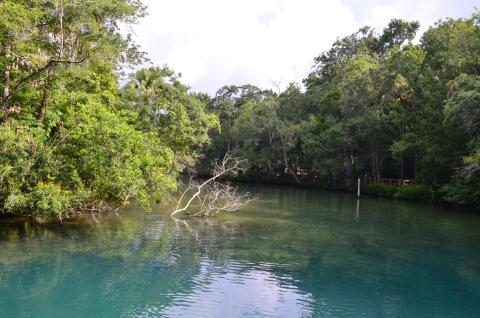 The Homosassa and Chassahowitzka rivers were selected by the District as priority water bodies for the SWIM Program in 2014. The District created a Springs Coast Steering Committee, which is an interagency partnership to protect, manage and restore springs. Through that committee, the SWIM plan process was implemented, which involves defining issues and drivers, setting quantifiable objectives, developing management actions, and establishing priority projects and initiatives.
"These aren't just plans," said Chris Anastasiou, chief environmental scientist. "These are key strategies to helping improve and manage these very important resources." 
The plans look at three focus areas: water quality, water quantity and natural systems. The plans then identify issues in those three areas such as nitrate enrichment and altered aquatic vegetation. And through these plans, at least 60 projects and initiatives have been identified for these two rivers. 
Anastasiou stressed that the SWIM plans are living documents that will be used, implemented and updated to meet the needs of the systems. 
"Now the work really begins," Anastasiou said. "Now, we move from planning into implementation."
To view the SWIM plans, visit WaterMatters.org/Springs