The Southwest Florida Water Management District will receive a portion of $50 million in the state budget for projects that help restore area springs.
Gov. Rick Scott announced the Florida Department of Environmental Protection (DEP) and the water management districts have identified 40 springs projects that will receive $50 million as part of the 2017-2018 Fighting for Florida's Future budget. The $50 million in Legacy Florida funding for springs restoration projects was included in Scott's recommended budget and approved by the legislature during this year's legislative session. These projects will help improve water quality, recharge water flow and protect habitat in Florida's iconic spring systems.
DEP works with water management districts to identify projects that will improve the quality of Florida springs and provide a good return on investment. Many of these projects include matching funds from various local partners. Combined with match funding from Florida's water management districts and local partners, the investment in springs projects will total more than $94 million during the 2017-18 fiscal year. Since Scott took office, more than $365 million has been invested in Florida's springs, the highest amount of funding in Florida's history.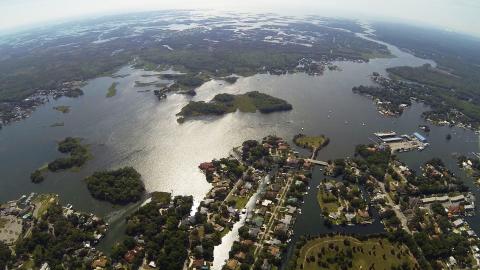 DEP Secretary Noah Valenstein said, "Thanks to the continued commitment of Governor Scott and the Florida Legislature in securing a dedicated funding source for springs restoration and protection, we can continue to focus on completing strategic acquisitions and projects that will produce real benefits for our spring systems. I look forward to continuing to work with the governor and legislature, the water management districts and partners in the environmental, agricultural and local communities to conserve and protect Florida's iconic springs."
Projects benefitting springs in our District include:
The Citrus County Sewer Extension. The project benefitting Kings Bay will route up to 2 million gallons per day of wastewater to the Meadowcrest Wastewater Treatment Facility to produce additional high-quality reclaimed water that will be sent to the Duke Energy Crystal River Power Complex.
The Pasco County Crews Lake Natural Systems Project. The project will benefit Aripeka and Weeki Wachee springs by constructing infrastructure to provide reclaimed water to restore about 200 acres of wetland in and adjacent to Crews Lake.
Zephyrhills Advanced Wastewater Project. This project will design, permit and construct/upgrade an existing wastewater treatment facility to produce advanced wastewater treatment level reclaimed water. This project will benefit Crystal Springs.
Brentwood Wastewater Treatment Facility Upgrades. This project will construct upgrades to the existing Brentwood Wastewater Treatment Facility in Citrus County to advanced wastewater treatment standards. This project will benefit Kings Bay.
To learn more about the District's efforts to restore and protect springs, visit WaterMatters.org/Springs.