Sustainability and environmental policy professionals recently gathered to talk about the state of water in Florida.
Sustainable Florida hosted the forum in Sarasota to discuss issues surrounding water quality, quantity and resiliency. The District's Executive Director Brian Armstrong spoke at the event about District programs that focus on water quality and quantity.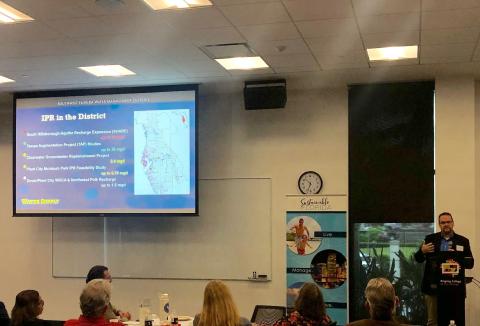 "Water quality and quantity is extremely important to our state and I am proud to share our efforts with this group," said Armstrong.
Armstrong highlighted initiatives including SWIM and Septic-to-Sewer, and how the District is planning for population growth.
Florida's newly appointed Chief Science Officer Tom Frazer, Ph.D., also spoke at the forum on Florida's blue-green algae problem, which is affecting the entire state, and possible solutions to fix the issue.
Later, The Everglades Foundation's Chief Operating Officer and Vice President of Policy Shannon Estenoz discussed the current state of the Florida Everglades and the restoration efforts there.
Forum participants ended the event with workshops that allowed experts to come together to help brainstorm solutions on issues affecting the state.
District employee and Sustainable Florida board member Jenni Williams said the forum was a chance to share ideas.
"Overall, the Sustainable Florida Forum provided a great opportunity to gather together to discuss one thing that is vital to all Floridians – water," she said.