Former District Governing Board Chairman Jeff Adams was recognized Tuesday for his service to the District.
The District's current Governing Board members recognized Adams during its meeting, noting all the work he completed while serving on the Board.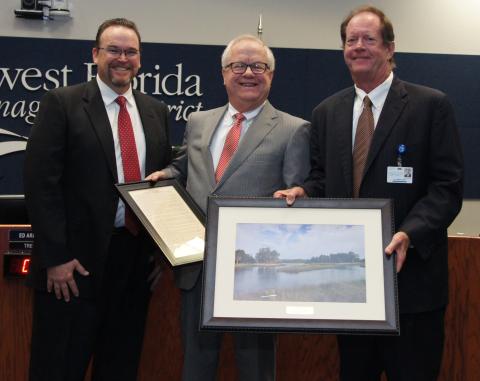 He was appointed to the District's Governing Board in April 2010 representing Pinellas County. He served on the Board through May 2019 and as the Governing Board's treasurer from 2012 through 2014, secretary from 2014 through 2016, vice chair from 2016 through 2018 and the chair from 2018 through 2019. Adams said his mission as chair was to "keep water plentiful and in its natural state."
Adams is an Illinois native that graduated from Carl Sandburg High School in Orland Park, Illinois. He earned his bachelor's degree from Oral Roberts University in Tulsa, Oklahoma, and a juris doctor degree from the Stetson University College of Law.
Adams spent his professional career with the law firm of Abbey, Adams, LLP. In addition to his legal experience, Adams has held numerous leadership positions in a variety of organizations.
The Board honored him with a framed photo.