Mountain bikers have a new place to pedal.
The District opened a new off-road bike trail in Jay B. Starkey Wilderness Park in New Port Richey. The project is in partnership with Pasco County and the Southwest Association of Mountain Bike Pedalers (SWAMP). 
In response to public comment received during public meetings on the Pasco County Greenways Master Plan, the County determined a strong demand for off-road bicycling opportunities within the proximity of the park.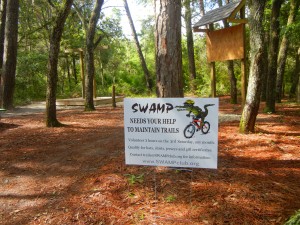 This new trail was designed to showcase some of the park's most beautiful assets. The trail system starts at Parking Lot 10 and winds through pine uplands, scrub oak, flatwoods and wetlands.
SWAMP members worked closely with District staff to select the best spot for the trail pathway. They designed the trail to serve diverse users.
"We designed it so that all level of riders can use it," said Ron Zajac, SWAMP club president. "We also know cross country runners will use it."
Zajac said it's the first off-road trail in Pasco County and is especially appealing because of its shaded path. 
The system was entirely constructed by SWAMP and other park volunteers who removed brush, shrubs and small trees for six months to create the trail.
To see all of the District's recreation options, visit http://www.watermatters.org/recreation.