District staff recently held an aerial prescribed burn at the Green Swamp. The burn was held in conjunction with the Florida Forest Service as an ongoing effort to share resources with other agencies.
Aerial burns are efficient ways to carry out prescribed burns because they target a larger amount of acreage than a traditional prescribed fire in a shorter amount of time. They also allow access to remote or isolated areas. The Florida Forest Service was able to provide the helicopter, eliminating the need to rent a private one.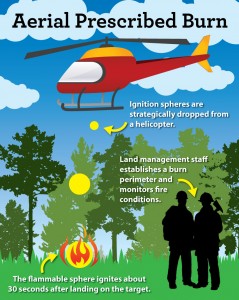 During an aerial burn, staff fly in a helicopter just above tree level and strategically dispense aerial ignition spheres, which resemble ping pong balls. The spheres contain a flammable substance that ignites about 30 seconds after it leaves the helicopter. Those spheres help start the fire while a ground crew establishes the burn's perimeter, and monitors weather, safety and burn conditions.
During the Green Swamp aerial burn, about 1,300 acres were burned in a few hours. A traditional ground fire that same size would take up to four days.
Burns are implemented to mimic natural fire cycles under a controlled situation. The objective is to avert uncontrolled wildfires and enhance the area's natural conditions by maintaining the ecological and wildlife habitat values. Prescribed burns are only conducted when weather conditions are optimal to meet the desired objectives and to minimize impacts to the public.
Through the partnership, the District also provides staff and equipment to the Florida Forest Service to help facilitate their prescribed burns and during wildfire season.