Residents are invited to give input on the District's Withlacoochee River Watershed Initiative during a series of public workshops.
The initiative is a multi-year effort designed to better understand the dynamics of the river and watershed, identify how alterations have affected the system, and evaluate alternatives to better manage the water resources.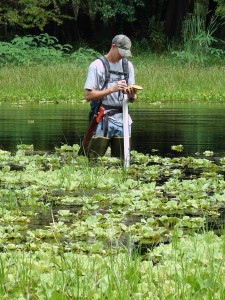 Nineteen river model scenarios have been identified through years of citizen input. These scenarios were evaluated to better understand how past or future changes may affect the Withlacoochee River and its surrounding watershed.
"We've hoping to gather feedback from the public regarding this initiative," said project manager Mark Fulkerson. "With a comprehensive model of the entire river system, we can make better management decisions and clearly communicate information to residents related to their specific concerns."
Results of the 19 scenarios can be found on the Initiative webpageand at the upcoming public workshops. Five meetings will be held around the area:
April 23, Pasco High School, Dade City
April 30, South Sumter High School, Bushnell
May 7, Cornerstone Baptist Church, Inverness
May 13, Yankeetown-Inglis Woman's Club, Yankeetown
May 21, District Headquarters, Brooksville
All workshops will present the same information and begin at 4:30 p.m. with a one-hour open house where attendees can review the scenarios and ask questions. District staff will lead a panel discussion at 5:30 p.m. that will include a presentation with question/answer period. Following the discussion, the open house continues until 7:30 p.m.
More information can be found at the Withlacoochee River Watershed Initiative webpage including a video with background on the project, an interactive map of the watershed and a fact sheet. For more information about the workshops, call Fulkerson at 1-800-423-1476, ext. 4410.