District scientists have completed a second year of setting up wetland monitoring sites as part of a regional monitoring program.
The project is part of the Central Florida Water Initiative (CFWI), a water planning effort among government agencies, water utilities, environmental groups, business organizations, agricultural communities and other stakeholders in a five-county area.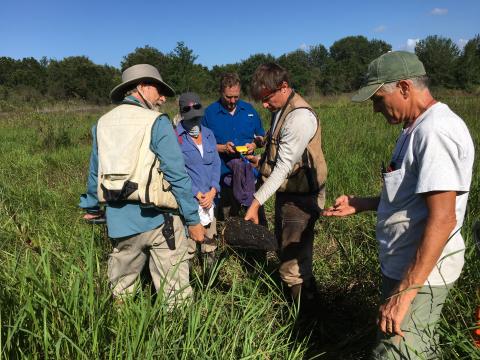 District scientists are part of the Data, Monitoring and Investigations Team, which is also made up of staff from the St. Johns River and South Florida water management districts. This ensures that all water management districts are using the same methods.
The goal is to set up a total of 107 sites across the CFWI area by 2020, with the District tasked with establishing 44 wetland monitoring sites. As part of the second year, District staff recently set up monitoring in six wetlands in Polk County. 
The process is grueling fieldwork, which involved trekking by foot into remote areas in the summer heat.
"Because the fieldwork is so difficult, I think of it as an adventure challenge," said Kym Rouse Holzwart, who has been leading this effort for the District. "It is a privilege to be involved in setting up this important regional wetland monitoring program and a great opportunity to collaborate with the other water management districts."
The monitoring sites will help the CFWI team develop and maintain an inventory of available hydrologic, environmental, and other pertinent data and investigations in the region. During the past two years, the District has set up monitoring in 14 wetlands. To learn more about CFWI, visit CFWIWater.com.