Sunday marked the start of another hurricane season and the 10th anniversary of one the most destructive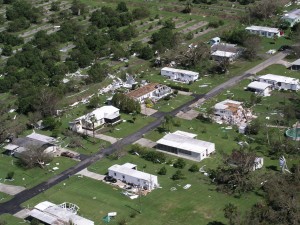 and costly seasons in Florida. During the 2004 hurricane season, four storms – Charley, Frances, Ivan and Jean – crisscrossed the state bringing major destruction and devastation including many parts of the District.
That hurricane season changed how the District responded to emergencies. Staff worked in numerous capacities in the recovery efforts from official duties like flood control to volunteer hours in animal shelters.
From August 2004 through January 2005, more than 100 staff members logged nearly 22,000 hours on hurricane-related activities. These included clearing debris and roadways, assisting local governments with cleanups, transporting water and supplies, securing generators and managing distribution centers.
Garry Flood, senior tradesworker, worked in the state Emergency Operations Center during Hurricane Charley. Flood's main responsibility was to fulfill transportation/public work requests that the District and other agencies could provide. For example, he arranged for District and Tampa Bay Water tanker trucks to deliver 20,000 gallons of water to Fawcett Memorial Hospital in storm-ravaged Port Charlotte. The hospital required non-potable water for their booster pumps, sterilizers and chillers.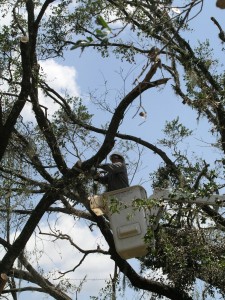 Leigh Rogers, senior regulatory support technician, volunteered at Manatee County's Disaster Animal Response Team (DART) after Hurricane Charley. DART volunteers completed various tasks, including caring for animals found in the disaster areas.
"The experience reminded me that we should be thankful for the people and things that surround us because they may not be around tomorrow," Rogers said.
Staff members Joe Quinn, Jason Mickel and Yassert Gonzalez worked at a distribution center in DeSoto County. They handed out items like bleach, ice and bread to families in need.
"The extent of the damage sent a shiver up and down my spine," Gonzalez said. "The people were very appreciative of our efforts. The images of the devastation and broken lives can never be forgotten. Moreover, the uncontrollable joy relief workers and victims felt at the outpouring of generosity from everywhere."