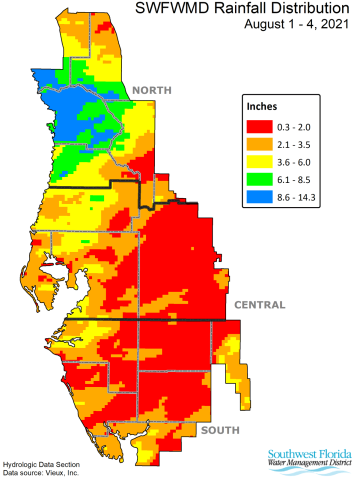 Portions of Citrus County received more than 10 inches of rain in the last four days, including more than six inches Monday night. This prompted District staff to raise the gates of the Inglis Main Dam to increase flows out of Lake Rousseau. Citrus County has nearly reached its historical average rainfall of 30.8 inches for the entire wet season (June through September) having received an average of 30 inches of rain the past two months.
District staff have been closely monitoring local water levels and operating water control structures around the clock all summer. Even non-tropical systems, such as stalled cold fronts, can cause high rainfall amounts in a short period of time. Within the Tsala Apopka Chain-of-Lakes, on the eastern side of Citrus County, heavy rainfall Monday night caused lake levels to rise well above their normal operating levels.
District staff responded immediately by opening all the water control structures throughout the area to assist in lowering lake levels. Most of the smaller water control structures are currently wide open, and the bigger flood control structures are passing the maximum amount of water without causing adverse impacts downstream.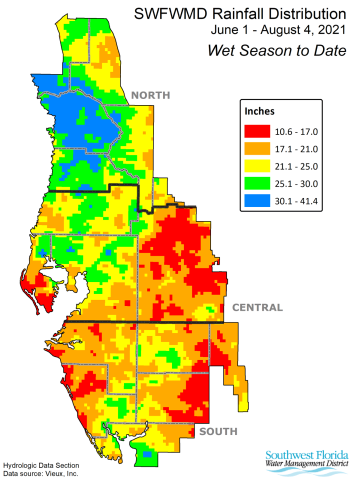 District staff will continue to monitor water levels and move the maximum amount of water possible until water levels in the area return to normal. It will take time for water levels to drop especially if the area continues to receive rainfall in the coming days.