One of the founding leaders that helped shape the District passed away this week. Dale Twachtmann, the District's first executive director, died May 17 following a battle with Leukemia. 
Twachtmann spent most of his career championing water issues and programs that remain key components to protecting the state's water resources. So passionate about new water technologies, he once famously drank a glass of treated wastewater to prove its safety to the public.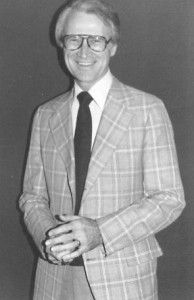 Before coming to the District, Twachtmann was an engineer and a pilot for the U.S. Army. He served as the District's executive director from 1962 through 1972. 
One of District's major accomplishments under Twachtmann's leadership was the Four River Basins Project, which authorized construction of canals, flood control structures and water detention areas to provide flood protection for the region. This included the Tampa Bypass Canal, Lake Tarpon Outfall Canal, the Tsala Apopka Outfall Canal and the Masaryktown Canal.
After leaving the District, Twachtmann was the City of Tampa's Public Works and Water Resources Administrator for 10 years. His influence was later felt statewide as the secretary of the Florida Department of Environmental Regulation. 
During that time, he championed the Surface Water Improvement and Management (SWIM) Act, still used today to protect and restore water resources. He also pushed for regional water supply planning and advocated for water users to work together. Those ideas are now a legislated role of the water management districts.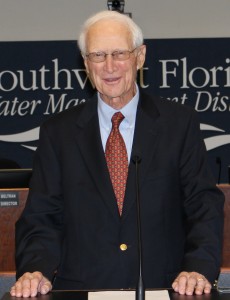 Twachtmann returned to the District in March to present the first-ever Dale Twachtmann Award of Excellence, which recognizes an employee who demonstrated exceptional leadership.
"It's extremely important to honor our past, which is why we developed the Dale Twachmann Award of Excellence," said Robert Beltran, the District's current executive director. "Dale was thrilled to be here for the naming of the first award in his honor and he was still talking about it in his final days." 
Twachtmann spent his retirement years living on the 17th green of his favorite Lakeland golf course, traveling and studying historic battlefields.