​
Today's professionals need to not only develop their technical skills but also soft skills like a strong work ethic and positive attitude if they want to build a solid career path. That's according to Scott Letasi, the District's Project Management Office chief.
Letasi spoke about how to build a solid career foundation when the District hosted the American Water Resources Association's (AWRA) Young Professionals Lunch and Learn Wednesday, June 26.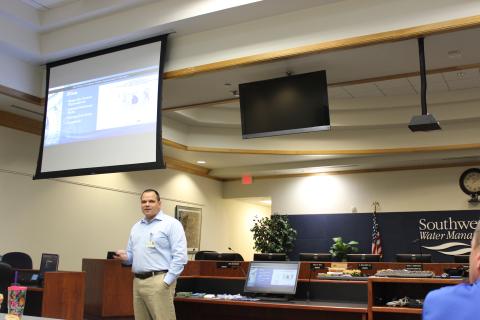 The purpose of the talk was to teach young professionals the value of developing a wide range of skills and knowledge in order to open career opportunities.
Letasi touched on four key points: creating a professional development plan, establishing technical skills, establishing soft skills and finding a mentor. He emphasized the importance of building a wide range of skills early to increase a person's potential for future success.
According to Letasi, the first step to building a solid career foundation is to establish a professional development plan.
"You need to focus on building your future resume," Letasi said. "Before you can start working on other skills, you have to make sure you are qualified. Put yourself in a position to succeed."
Letasi proceeded to touch on a variety of technical skills he has found valuable in his field, such as data collection, design and permitting, GIS, graphics and modeling. Although he said mastering technical skills is important, career growth also requires learning and developing soft skills.
"I always say it's good to know yourself before you go on a journey, especially a career journey," Letasi said.
Therefore, the first step for developing soft skills is to assess yourself in order to identify personal strengths and figure out long- and short-term goals.
"There's passion behind everyone's personality," Letasi said. "You need to find that passion and bring it out."
Letasi also emphasized the importance of finding a mentor who can provide career guidance and insight from experience. He advised young professionals to take advantage of senior management who are willing to help, calling them "goldmines of information."
"It's important to remember that if you want to achieve something in the future, lay the path out now," Letasi said. "Just like it takes a lot of people to build a foundation, it takes a lot to build your career."
​