The District recently hosted wounded veterans on its Lake Hancock property for an alligator hunt. 
The event was facilitated by Operation Outdoor Freedom and the Wounded Warriors Program. Operation Outdoor Freedom is an endeavor that provides recreational opportunities to wounded veterans. Designated state and agricultural lands throughout Florida grant participating veterans unique opportunities for recreation and rehabilitation. 
Thirteen wounded veterans participated in the three-day alligator hunt last month. The veterans harvested 15 alligators and the biggest was 11 feet 2 inches.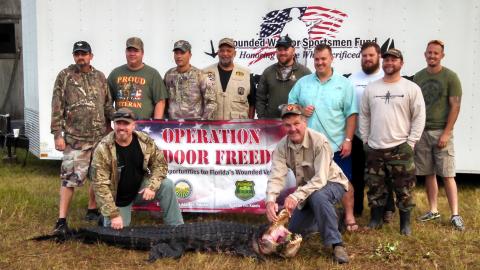 The program, launched by Commissioner of Agriculture Adam H. Putnam in 2011 and led by the Florida Department of Agriculture and Consumer Services' Florida Forest Service, has hosted hundreds of wounded veterans on hunts, fishing trips and tours of state lands.
"These men and women risked their lives to protect our country, and we're proud to honor their service," Commissioner Putnam said. "Operation Outdoor Freedom invites our nation's heroes to enjoy the beauty and recreational opportunities of Florida's great outdoors."
All funding for the hunts is generated through private donations. Veterans participate at no charge. For more information on Operation Outdoor Freedom, click here.