Cowboys recently cracked their whips and recreated history on District property. The District hosted the Hernando Southern Heritage Days Cracker Cattle Drive at Potts Preserve in Citrus County. The Cracker Cattle Drive is a yearly event sponsored by the Hernando Heritage Council of
About two dozen community leaders and other citizens got an up-close look at the condition of Kings Bay when the District hosted a boat tour last week.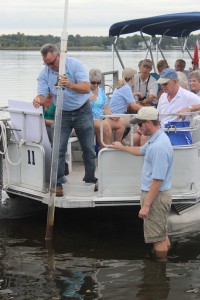 The tour was one of the events during Save Our Waters Week in Citrus County. The District also hosted a public workshop on springs as part of the week's events.
Chris Anastasiou, chief environmental scientist and Sean King, staff engineer, guided the tours, which included stops at Tarpon Hole, Magnolia Spring and Hunter Spring. Staff discussed algae, sediment build-up and upcoming restoration and wetland treatment projects.
The elected officials on the tour included state Rep. Jimmie T. Smith, state Rep. Dennis Baxley and Citrus County Commissioner Dennis Damato.
Following the boat tour, guests were invited to take a walking tour of Three Sisters Springs. For more on the District's efforts to restore our springs, visit WaterMatters.org/Springs.
the Citrus County Historical Society. During the event, 130 riders saddled up their horses and readied their wagons to relive history when cow hunters gathered and drove their cracker cattle herds over miles of scenic trails, through swamps and back country. The cowboys moved a herd of 42 cattle through Potts Preserve.
For most of the riders, it was a first time experience to be on a cattle drive and at Potts Preserve. Many said they were amazed by the natural beauty of the property and the facilities. "It was way more than I ever expected," said Angie Rushton, event organizer. "We had a super turnout and a super time." From Potts Preserve the cattle drive continued north onto private property for an overnight stop and made its final approach into the festival grounds, in the town of Hernando. All proceeds from the Hernando Southern Heritage Days Cattle Drive and Festival benefit the continued restoration and upkeep of the Historic Hernando School.