A sold-out crowd at the Tampa Theatre erupted in thunderous applause after an hour of stunning scenery, funny moments in nature and important messages about conservation.
It was the premiere of "The Forgotten Coast: Return to Wild Florida," a documentary of the Florida Wildlife Corridor Expedition that took a team of explorers across 1,000 miles of natural lands in Florida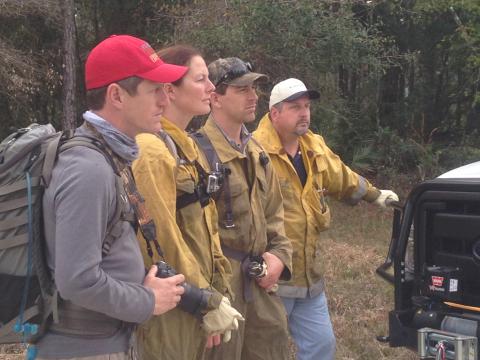 including those in the District. In 70 days, the expedition went from the headwaters of the Everglades to the Alabama border to raise awareness for connecting natural lands and water through Florida.
The film chronicles the adventure day-by-day and during the first 14, audiences see many familiar District locations like the Green Swamp, Withlacoochee River, Chassahowitzka River and Three Sisters Springs. District staff hosted the team in early 2015, holding a trail mixer where about 50 people, including the explorers, paddled the Rainbow River.
About 30 minutes into the film, they flashback onto the day they spent with the District's land management specialists during a prescribed burn. Will Vangelder, land management supervisor, can be seen directing the explorers and explaining the benefits of a burn.
You can watch the documentary during several upcoming broadcasts. Click here for times and dates.