As mullet jumped and birds soared, guests celebrated the success of the Terra Ceia Ecosystem Restoration Project.
District and other community leaders dedicated the first phase of the largest ecosystem restoration project ever performed on Tampa Bay during a recent ceremony. The project is a multi-phased initiative involving 1,800 acres within Terra Ceia State Park, located in Manatee County in the southeastern reaches of Tampa Bay.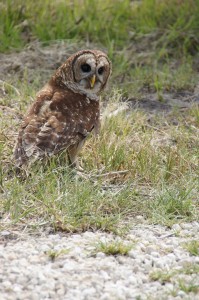 A total of 843 acres were restored to date – 117 acres are freshwater and estuarine habitats and 726 acres are coastal upland habitats. The restoration will help offset habitat losses suffered throughout Tampa Bay, Bishop Harbor Bay and Terra Ceia Bay.
The Terra Ceia Ecosystem Restoration Project was spearheaded by the District's Surface Water Improvement and Management (SWIM) Program in collaboration with the Terra Ceia State Park and Aquatic Preserve Programs of the Florida Department of Environmental Protection (DEP). DEP has been involved in the project since the beginning. The "Terra Ceia Isles" tract was co-purchased by the District and DEP in 1995 at a foreclosure auction. DEP currently manages the property.
"I have to congratulate the [District], which partnered with DEP and others to get this land back into public ownership, which is very much a focus of the department right now," said Drew Bartlett, deputy secretary for Water Policy and Ecosystem Restoration at DEP. "And to make sure we get the right land that protects our aquatic resources."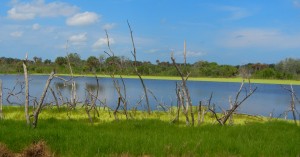 Governing Board Chair Carlos Beruff praised the work of District scientists and other staff on the restoration project. Brandt Henningsen, the District's chief advisory environmental scientist, lead guests on a tour of the property highlighting the wetlands, native palms and mangroves that now make up the property.
Also, the property is now home to some new residents as the Wildlife Education and Rehabilitation Center released rehabilitated screech and barred owls and a wood stork at the ceremony.
A Phase 2 project currently is under design, which involves an additional 408 acres of public land. While portions of the Phase 2 tract are intact wetlands, it is anticipated about 233 acres are in need of restoration/creation of various upland and wetland habitats.