When the Friendship Village Apartments recently were built in north Tampa, Carlene Dillard jumped at the chance to live there.
"It is so nice and I'm just so happy here," she said.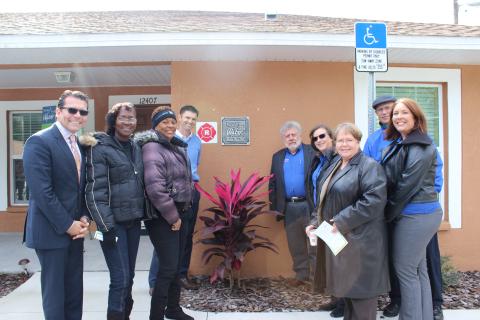 The new affordable housing for low and moderate-income residents was built by the Florida Home Partnership and is Hillsborough County's first Florida Water Star℠ community. That means the entire complex met the requirements of the Florida Water Star℠ certification program by installing water-efficient fixtures, appliances and landscaping.
The District's Governing Board Chair Michael Babb joined other community leaders recently to recognize the community.
"Water is a precious, limited resource and our challenge is to find new ways to be more efficient so that we can ensure a long-term water supply," Babb said. "Working with builders to incorporate water-saving features into new homes through the Florida Water Star℠ program is one of the best strategies to ensure that our limited water supply is used wisely."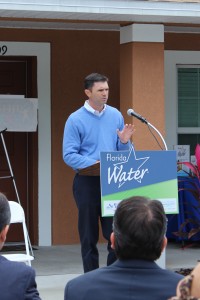 Florida Water Star℠ is a voluntary certification program for builders, developers and homeowners. It encourages water efficiency in appliances, plumbing fixtures, irrigation systems and landscapes. 
The Friendship Village Apartments installed water-efficient showerheads, low-flow toilets and ENERGY STAR® dishwashers. Outside, drought-tolerant plants that use less water, pesticides and herbicides were planted. In addition, the community water budget does not exceed 20 inches of irrigation per square foot per year.
Florida Home Partnership, a nonprofit organization that offers affordable housing opportunities, has been a long-standing partner of the Florida Water Star℠ program. The partnership emphasizes that environmentally-friendly homes also can be affordable.
Visit FloridaWaterStar.com to learn more about the Florida Water Star℠ program.