On Top of the World (OTOW), an active adult community in Ocala, plans for all future homes to achieve Florida Water Star℠ (FWS) certification over the next 20 years, saving residents millions of dollars and millions of gallons of water.  
Nearly 5,000 FWS-certified homes will be constructed, using about 240 million gallons of water less per year than traditional construction. In addition, homeowners will spend approximately $530 less on utility bills annually for their FWS home compared to homes that are not FWS-certified.
FWS is a voluntary water conservation certification program for new and existing homes and commercial developments. The program requirements include water-efficiency standards for indoor fixtures and appliances, landscape design and irrigation systems.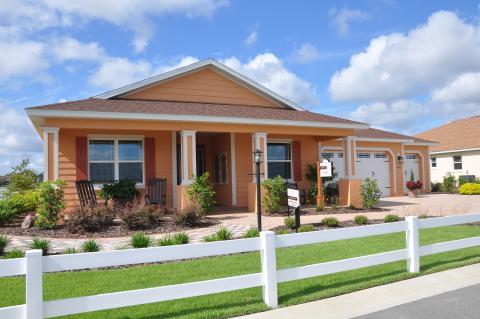 OTOW will be the largest development voluntarily featuring FWS-certified homes in the state.
"OTOW has been a leader in the development of the FWS program. They have been voluntarily constructing FWS homes since 2010, working to reduce water use and help preserve and protect our water resources," said Robin Grantham, District lead communications coordinator.
OTOW has constructed 278 FWS-certified homes. The end goal is to earn FWS-certification on all new residential construction until the community is fully developed, which should take approximately 30 years. As a result, more than 10,000 FWS-certified homes are anticipated.  
OTOW homes feature high-volume irrigation limited to less than 60 percent of the landscape, micro-irrigated plants, WaterSense fixtures, water-efficient appliances and Florida-friendly landscapes.
"Owners benefit by paying less money to utility providers while conserving an important natural resource," said Kenneth Colen, President of OTOW. "Water saving features inside the home is just common sense."
For more information about the FWS program, visit WaterMatters.org/FWS.