With the rainy season upon us, now is a great time to think about adding a rain barrel to your yard.
Harvesting rainwater with a rain barrel helps supplement irrigation for a small cost. Storing rainwater also helps reduce stormwater runoff, which can lead to reduced levels of pesticides and fertilizers in our water.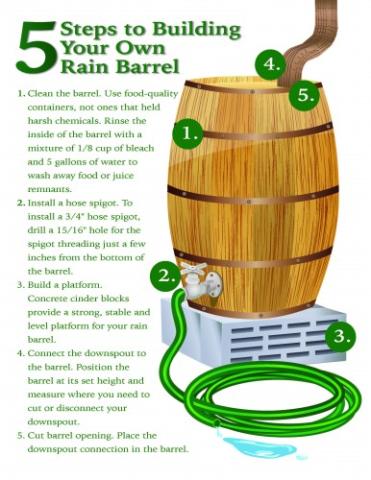 Many people make rain barrels out of inexpensive 50-gallon food-grade drums that were used to carry juices, olives, pickles, etc. Often you can find barrels for around $10 from drum and barrel suppliers. 
Be sure to get a heavy-grade plastic container that won't let in light — clear or translucent barrels can speed the growth of algae, which can clog pipes. Use a window screen or wire mesh to keep out debris and insects, and clean the tank periodically to remove any settling.
A typical half-inch rainfall will fill a 50- to 55- gallon barrel. Figure about a half gallon of water per square foot of roof area during a 1-inch rainfall. A 2,000-square-foot roof can collect about 1,000 gallons of water (accounting for about 20 percent loss from evaporation, runoff and splash).
Use the collected water to fill watering cans and hand-water plants, flower beds and gardens. Also, use the water to keep a compost bin moist and rinse off gardening tools.
Remember, some subdivions have guidelines affecting size, location and appearance of rain barrels. It's important to keep your rain barrel independent from existing house piping or sprinkler system piping to prevent a cross-connection to your potable water.
Click here for more tips including a 28-page guide you can download.