Whether students are testing water quality, building a water-conserving garden or studying an estuary, Splash! grants enhance water education in public schools.
The District's Splash! school grant program provides up to $3,000 per public school to enhance student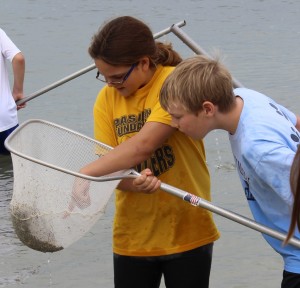 knowledge of freshwater resources issues. The deadline to apply for the 2014-15 school year is Aug. 29.
"The grant provides students a chance to learn in a hands-on way," said Denise Dawson, a teacher at Pasadena Fundamental Elementary School in St. Petersburg.
Dawson's school received a Splash! grant last school year to study watersheds. Her fifth-grade class took a field trip to Fort DeSoto to learn about how pollutants enter water systems, where water drains and how it directly and indirectly affects ecosystems.
During the field trip, students tested the quality of the water and learned how water quality can affect biodiversity. The students also used dip nets to learn the importance of seagrass habitats. That day, the students found 16 different animals in their dip nets. Students also picked up trash that could get washed into the estuary.
"The students are little ambassadors," Dawson said. "They share the information with their parents and hopefully that information carries on."
The District has awarded Splash! grants since 1997. To learn more about the program, visit WaterMatters.org/SchoolGrants"Your text to link here…":http://www.WaterMatters.org/SchoolGrants.