Whether students are in the classroom or learning from home, the District's Splash! school grants are the perfect way to provide a hands-on opportunity to learn about water resources.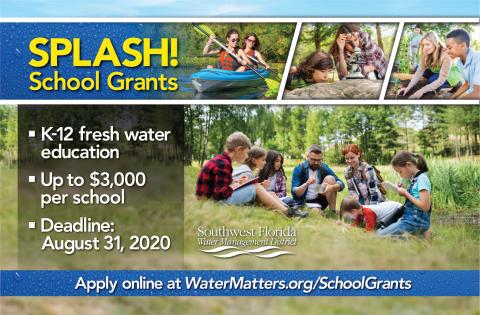 The District's Splash! school grant program provides funding to public and charter school educators to help enhance knowledge of freshwater resource topics. Applications are due Aug. 31 and for the first time, these grants can be used to support both in-person and virtual experiences.
"This year's grant funds will still be used to fund the same items, but how they are delivered might look a little different," said program coordinator Katherine Munson. "While a traditional educator might use the funds to purchase materials to use in the classroom, a remote educator might use the funds to buy materials that can be sent out to their students to conduct a lab or project at home."
Virtual field trips are another great way to use the grant funds in a remote setting. Instead of traveling to a local environmental education center in person, funds could be used to pay for a live virtual visit.
Whether you are in a traditional classroom setting or not, grant funds can be used for project supplies, transportation, substitutes, admission fees and more.
Both public and charter school educators of grades K-12 are eligible to apply for the grants and can be awarded up to $3,000 per school.
To apply for a Splash! grant today, visit WaterMatters.org/SchoolGrants 
For questions or more information on Splash! grants, please contact Katherine Munson at Katherine.Munson@WaterMatters.org or (352) 796-7211 ext. 4405.