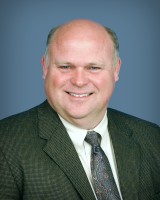 Chair
Bryan K. Beswick of Arcadia is the grove manager of Premier Citrus Management LLC.
Beswick was appointed to the Governing Board on March 4, 2013. He was elected Board secretary in May 2016 and was reelected in 2017. He was reappointed in August 2016 and again in May 2017, and his term expires March 2020. He previously served on the Board from April 2008 to March 2012.
A native of Polk County, Beswick graduated from Lakeland Senior High School. He went on to earn a bachelor's degree in citrus production with a minor in business administration from Florida Southern College in Lakeland.
Beswick has more than 20 years of experience in the citrus industry. He currently serves as the secretary/treasurer of the DeSoto County Farm Bureau and as a board member of the Peace River Valley Citrus Growers Association. He also holds a Florida real estate license and is a sales associate for Blue Goose Realty.
As a grower, Beswick has a good understanding of the regulatory process and believes the District has become easier to work with. His goal is to continue to promote a common-sense approach to permitting to make it easier for citizens to go through the regulatory process to start new projects.