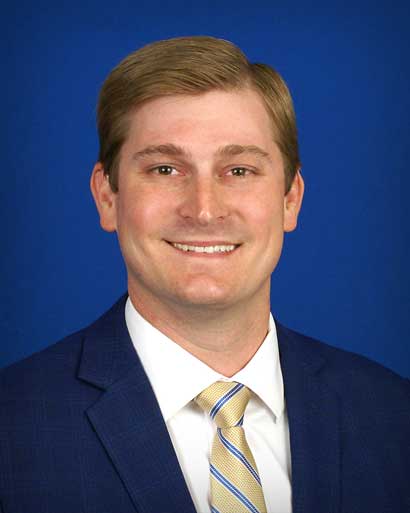 Seth Weightman of Dade City is municipal services manager with Republic Services Inc.
Weightman was appointed to the Governing Board for a term beginning Nov. 5, 2019, and his term expires March 1, 2023.
He earned a bachelor's degree in criminology and a master's degree in entrepreneurship from the University of South Florida in Tampa.
Weightman is municipal services manager for Republic Services Inc. In this role, he grows and manages Republic Services' clientele in the Tampa and Jacksonville markets helping the company provide responsible and sustainable recycling and waste disposal services from the gulf coast to northeast Florida.
Weightman has served on the board of CareerSource Pasco Hernando and the Florida Public Service Commission Nominating Council. He currently serves on the AdventHealth Dade City Zephyrhills Foundation Board as well as on the board of the Pasco-Hernando State College Foundation.
As a native Floridian and fifth-generation Pasco County resident, Weightman looks forward to having the opportunity to safeguard Florida's natural resources for present and future generations as well as promote the responsible use of Florida's environment. His desire is to see the region's natural resources utilized in a safe and sustainable manner so that all Floridians may enjoy the precious resources we share.
Weightman represents Pasco County.
Committee Assignment
Regulation
Standing Committee Liaison
Well Drillers Advisory Committee